MAZUR HALL
Client: Temple University
Location: Philadelphia, PA
Year: Completed 2021
Area: 10,000 sf

Recognition:
2023 - The American Architecture Award
2022- AIA Philadelphia Merit Award
2021 - AIA Tri-State Merit Award
2021 - AIA Pennsylvania Design Silver Award

Synopsis:

The primary intervention erodes the plaza perimeter to reduce the tunnel-like experience of the underpass. Two small existing courtyards, formerly separated by a looming overpass, are united into a grand court that establishes a properly scaled entry plaza to the College of Liberal Arts. A transparent sculptural volume is inserted into the void of the plaza to connect the two campus levels with a major event space and lobby that serves as a primary gathering space for the College. An elevator, monumental stairways and a bleacher stair connect the street level to the elevated terrace above. Ultimately, this project presents a new, centralized event venue and activities hub for every student at the University while providing unique views of Temple's iconic Bell Tower. Mazur Hall lobby is visible from afar, offering a renewed prominence, and added functionality for a previously neglected part of campus. This new building at the College of Liberal Arts is at the center of the University's student life and is designed to accommodate social, professional, educational, and community functions.

In a space that was once devoid of much greenery at all, new life has grown. The courtyard infill connects the newly renovated plaza that invites students, faculty, and neighbors to enjoy the lush greenscape. The Plaza includes an array of seating options, from lounge chairs, to shaded tables, to a manicured lawn, that allows its occupants to enjoy the space in any fashion. Creating a retreat from the urban streets, the Plaza brings much needed vegetation to the campus.

The highlight of the courtyard infill is the soaring steel hyperbolic paraboloid roof. The expressive shape gestures invitingly to Polett Walk and brings new energy and curiosity to the courtyard below. The wood slat interior ceiling brings a warm glow to the surrounding concrete structures that overlook the Plaza.

Several prominent buildings within the University overlook the Plaza. However, in the original design, the buildings lacked visual significance, both on the campus and within the surrounding area. The space needed a sense of identity within the barren plaza. With this intervention, the College of Liberal Arts gained a prominent identity that encourages pride of place. Every student at Temple University passes through Mazur Hall, and the new event space and community hub at the College of Liberal Arts will be at the center of the University's student life plan for decades to come.



Built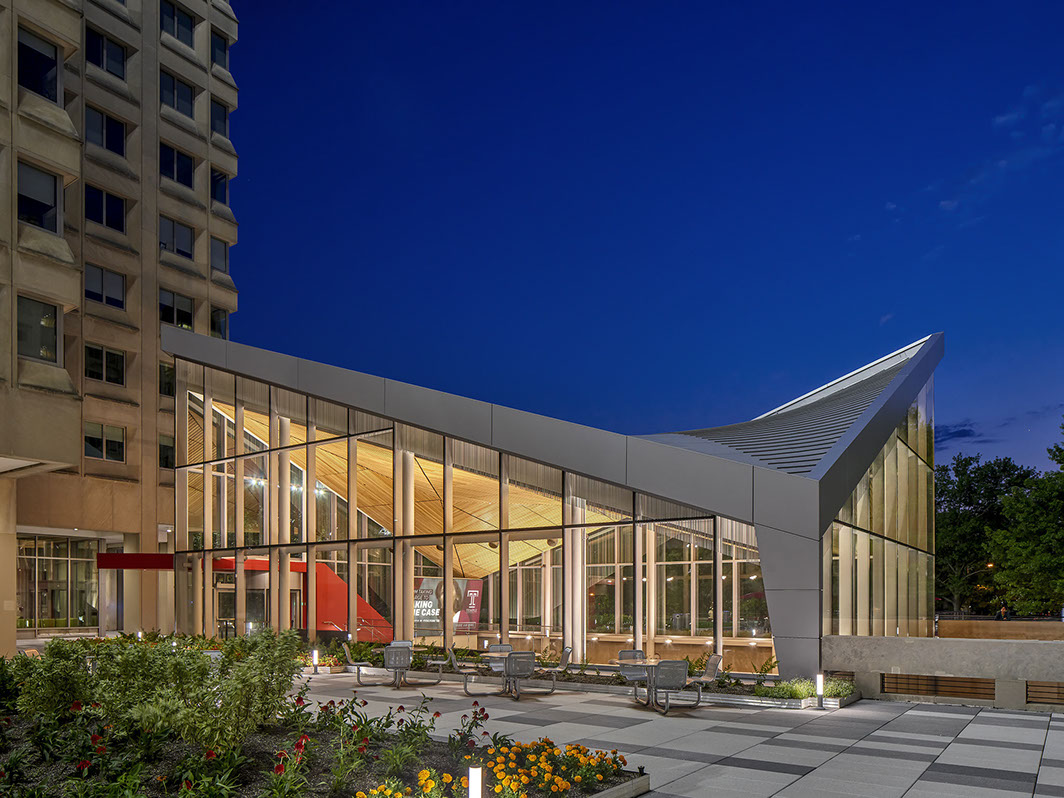 Renderings
Drawings
Construction
Map